Gastre, Chubut, Argentina – 28/02/09. Poco tiempo atrás el ministro de Coordinación de Gabinete de Chubut, Pablo Korn, desestimaba la posibilidad de cambios en la actual legislación minera provincial. Ahora es John Chulick, vicepresidente de exploración de Aquiline Resources, quien afirmó que la mayor prioridad de la empresa es «levantar las leyes de prohibición en Chubut» en declaraciones a un medio de prensa del sector minero. El yacimiento de plata y plomo Navidad, según Aquiline, podría ser la quinta mina de plata más grande del planeta. La empresa confirmó que «hay un diálogo en curso» con las autoridades de Chubut, que «saben que tienen un activo muy grande e importante» y revelaron que el Gobierno provincial hace poco llamó a la embajada canadiense para elogiar la gestión de Aquiline en el proyecto.
Fuentes: Oro Sucio, Northern Miner y diario El Chubut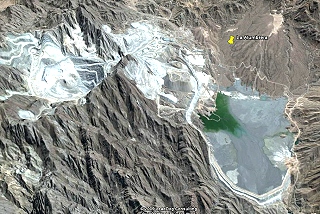 Aquiline cree que el Proyecto Navidad sería la quinta mina de plata más grande del planeta
Diario El Chubut
La empresa canadiense Aquiline Resources continúa en la espera de los permisos medioambientales para el desarrollo del Proyecto Navidad, en la meseta chubutense, que de ser aprobado podría ser la quinta mina de plata más grande del planeta, según la minera.
De acuerdo a información publicada por el medio chileno «BN Américas», el gerente general de la empresa, Marc Henderson, reconoció que «hay un diálogo en curso» con las autoridades de la provincia del Chubut, que «saben que tienen un activo muy grande e importante».
Sin embargo, el artículo publicado el 26 de febrero pasado entiende que es una contra para el proyecto; que Chubut es conocida por el rechazo que han manifestado sus habitantes a la actividad minera y por haber prohibido la minería a cielo abierto.
Así y todo, dice la información, el Gobierno provincial hace poco se contactó con la embajada canadiense para elogiar la gestión de Aquiline en el proyecto, lo que puede interpretarse como una señal de que se otorgará el permiso medioambiental, siempre según el testimonio de Henderson.
Por otro lado, se menciona como otro de los obstáculos que debe enfrentar el proyecto, a las aspiraciones presidenciales del gobernador de la provincia, Mario Das Neves, quien ha basado su campaña en el respeto al medioambiente y la importancia del ecoturismo para la provincia patagónica.
En cuanto a las necesidades de financiamiento, Henderson sostuvo que no estaba preocupado por la escasez del crédito en los mercados. «Es un excelente proyecto y se financiará sin problemas», afirmó.
Transcribimos el artículo:
Aquiline advances giant Navidad
«The highest priority, to the extent that we can influence it, is getting bans lifted,»
By Ron Mandel – Northern Miner
Gastre, Argentina – There are surely very few places where one can stand atop a deposit holding resources of 450-600 million oz. silver. Aquiline Resources' (AQI-T, AQLNF-O) Navidad silver-lead project here in Chubut province, Argentina, is such a rare elephant.
The six deposits comprising the 5-to 6-km-long Navidad trend, and a seventh deposit nearby, together hold measured and indicated resources of 128 million tonnes grading 110 grams silver per tonne and 1.06% lead, for 453 million oz. silver and 3 billion lbs. lead. Inferred resources stand at 49 million tonnes of 97 grams silver and 0.5% lead, for 153 million oz. silver and 546 lbs. lead.
As big as the project's potential is, there is at least one major obstacle in the way of its development – a ban on both open-pit mining and cyanide use in Chubut province. And while the company can get around the cyanide ban by using flotation alone and settling for lower recoveries, it is hoping that that the open-pit ban will be overturned.
«The highest priority, to the extent that we can influence it, is getting bans lifted,» says John Chulick, Aquiline's vice-president of exploration. «The best case would be the cyanide ban lifted. Even if we don't need cyanide for the scoping study, it would be nice to have that option.»
Both bans were instituted in 2003, but Flora Wood, vice-president of investor relations, says the government is reviewing the open-pit ban as part of changes to environmental laws, which are expected to be stricter.
In spite of the uncertainty, the company is moving Navidad steadily toward permitting. Chulick says the company plans to complete environmental baseline studies this year and begin engineering work in July to be on track for production as soon as 2012.
An updated resource estimate is expected in the next few months and the company has also compiled a preliminary economic assessment for a zone with the most amenable metallurgy.
To date, 904 diamond-drill holes have been completed, totalling 182,000 metres. The deposits making up the Navidad trend are Calcite Northwest, Calcite Hill, Navidad Hill, Connector zone, Galena Hill (the largest, including the Portezuelo zone), and Barite Hill. The Loma de La Plata deposit, 2.5 km away, is a part of the project, although it is not on the Navidad trend. The company is also exploring the Valle Esperanza zone, a new discovery bordering Galena Hill.
The deposits are far from uniform, each having its own characteristics in silver and lead grades, the presence of sulphides, and metallurgy.
If Navidad eventually goes ahead, it looks like it will start producing from the Loma de La Plata deposit. At a cutoff grade of 50 grams silver per tonne, Loma de La Plata has indicated resources of 9.1 million tonnes grading 225 grams silver and 0.09% lead, for 66 million oz. silver and 19 million lbs. lead. Inferred resources are 17.3 million tonnes grading 159 grams silver and 0.11% lead, for 89 million oz. silver and 43 million lbs. lead.
Released in October, a preliminary economic assessment of potential production from Loma de La Plata is based on a two-stage, 200-metre-deep open pit holding 24 million tonnes grading 178 grams silver, 0.05% copper and 0.09% lead, at a cutoff grade of 46 grams silver equivalent per tonne. Using flotation, and no cyanide, the mill would recover 80% of the silver, 60% of the lead and 50% of the copper in the pit, producing a concentrate grading 50 kg silver per tonne, 10% lead and 5% copper. Silver sales of 8-22 million oz. per year would amount to 102 million oz. silver over 6.5 years.
Startup capital costs are estimated at US$273 million. The two-stage pit is designed for high-grade mining in order to maximize cash flows in the initial years, with the average grade in the first three years projected at 231 grams silver, dropping to 140 grams for the remainder of the mine life. The mining rate would be 10,000 tonnes per day. The net cash flow produced by the project would be US$282 million, giving an internal rate of return (IRR) of 22%, a net present value (NPV) of US$136 million at a 7.5% discount rate, and a two-year payback period. Average total cash costs are forecast at US$8.61 per oz. silver, including capital costs. (Exports of silver concentrate from Navidad are subject to a 10% export tax.)
Loma de La Plata is not the largest deposit at Navidad. By far, that honour goes to Galena Hill. At a cutoff grade of 50 grams silver per tonne, Galena Hill boasts measured and indicated resources of 60 million tonnes grading 100 grams silver per tonne and 1.74% lead, for 192 million oz. silver and 2.3 billion lbs. lead. Inferred resources stand at 10 million tonnes of 67 grams silver and 1.05% lead, for 22 million oz. silver and 235 million lbs. lead.
So the question is, why has Aquiline decided to compile an economic assessment for the smaller resource at Loma de La Plata, rather than going for the much larger deposit next door?
There are two reasons. The first has to do with metallurgy. Mineralization at Galena Hill is made up of sulphides that are associated with pyrite. Unable to use cyanide in the recovery process, Aquiline can only use flotation, which will produce lower recoveries at Galena Hill. In addition, a sulphide concentrate entails higher smelter charges.
The second reason is the high lead content at Galena Hill. Some of the opposition to mining in Chubut province has to do with fears of environmental damage from lead, and Aquiline believes that it would be easier to permit Loma de La Plata, with a far lower lead resource.
Chulick says that before the 2007 resource calculation, Galena Hill was very important to the project.
«We have shown that the Navidad deposit is not just Galena Hill,» he says. That «gives us more time to concentrate on the metallurgy of Galena Hill – Galena Hill does not have to be at the forefront any more.»
Since a large part of the Loma de La Plata resource is inferred, some of Aquiline's recent drilling has concentrated on that deposit. Aquiline has not indicated which deposit it would mine after Loma de La Plata. The most probable targets would be Barite Hill and Valle Esperanza, which does not yet have a resource. Mineralization at Barite Hill shows good recoveries, similar to those at Loma de La Plata, but grades are lower. Other deposits show varying recoveries. For example, recoveries from Calcite Hill show wide variation between 64-94%.
During this year and next, Aquiline plans to conduct metallurgical testing on all the Navidad deposits. Knowing the recoveries from each deposit would allow the company to produce scoping studies for each, similar to the Loma de La Plata study.
Navidad lies on the southern part of the Somancura massif. The main lithological feature on the property is two synclinal latites separated by sediments. The upper layer is mineralized. Aquiline's geologists have identified five distinct styles of mineralization within this lithology.
There is one aspect of Navidad that geologists find fascinating. Despite the high grades of silver, there is essentially no gold present, a fairly unusual situation in an epithermal deposit. A technical report filed by Aquiline last year says that the mineralization is principally controlled by stratigraphy, and probably less so by faults or fractures.
«The principal guide to exploration on the property has so far been the location of the contact between the latite unit and the upper sedimentary unit,» says the report. «Mineralization at Navidad is concentrated in breccia zones within the felsic lavas, particularly at the upper contact between the lavas and the overlying laminated carbonaceous and calcareous black mudstones. Locally, the sediments are mineralized as discrete disseminations or as breccia matrix fill.»
Zinc concentrations are highest at the top and at the limits of mineralized zones, which contain silver and copper-rich cores.
The report says Navidad mineralization is not a low-sulphidation epithermal deposit, but rather intermediate, as indicated by the abundance of base metals combined with gangue mineralogy of carbonate and barite dominate over silica.
During The Northern Miner's recent visit, one drill was active on the property. Chief geologist Dean Williams says the company has identified six more targets along a 16-km-long zone.
Obtaining a water permit will be a key step in advancing this project. The area is dry, with annual precipitation of around 200-250mm, mostly from snow melt. Water consumption for a potential mill is projected at 95 litres per second, while average catchment in the basin is 1,500 litres per second, although it is highly variable. Aquiline has identified a water resource 10 km from the project, with a 60-metre-thick, 30-metre-deep aquifer. As for electricity, it is anticipated that a 65-km line would be built to an existing 330-kilovolt line at El Escorial.
Navidad is remote, 335 km west of the modern port city of Puerto Madryn (population 58,000). The distance to Puerto Madryn is covered by provincial route No. 4, an unpaved road of a mostly good quality. The project is located 3 km on a dirt road from route No. 4. The proximity to route No. 4 would facilitate moving equipment and supplies from the container port in Puerto Madryn, and shipping concentrate back to the port. Puerto Madryn is serviced by scheduled flights to Buenos Aires via the airport in Trelew. Navidad can also be accessed via the airport in Esquel, 260 km to the southwest on an unpaved road.
The nearest villages are Gastre, 49 km west, and Gan Gan, 48 km east; both have populations of about 500-700. Aquiline's exploration camp is in Gastre. The main economic activity in the area is low-density sheep farming.
Two areas that Aquiline is focusing on are community and government relations and environmental management. This is perhaps not surprising, since Aquiline's focus is on permitting. The company is putting a lot of effort into being a good neighbour to the local community, even giving vocational courses to residents.
It is also proceeding with environmental studies, and has determined that the project lies in a closed catchment area, meaning that it likely would have no environmental impact on downstream areas. Aquiline is also sampling silver and lead levels in vegetation to obtain baseline readings. As a part of the permitting process, an environmental impact statement will have to be filed with the provincial government.
Aquiline gained control of Navidad after a much-publicized court battle with IMA Exploration (IMR-V, IMR-X). The Superior Court of British Columbia awarded Aquiline sole ownership of Navidad in 2006, with the Supreme Court of Canada backing that ruling in 2007.
The company also holds the Calcatreu gold-silver project in Argentina's Rio Negro province, and the Pico Machay gold project, in Peru.
Aquiline has 67.5 million shares outstanding, or 81.5 million shares fully diluted. The company's shares recently traded at $2.57 in a 12-month range of 72¢-$11.50. It raised $10.6 million in a private placement during the fourth quarter of last year.
The company has a $17.5-million convertible debenture outstanding. The conversion price is $12, but the holder has an option to convert to a silver stream, which is more likely.
Analyst Andrea Cheung of Cormark Securities rates Aquiline stock a speculative buy with a $3 target, while Andrew Mikitchook of Thomas Weisel Partners rates the shares market weight, and John Hayes of BMO rates the shares market perform.